The following article is republished from the TRANSPORTATION SERVICES DIRECTORY of THE BUSINESS PRESS due to relevance to Rancho Cucamonga, California and other cities in the Inland Empire.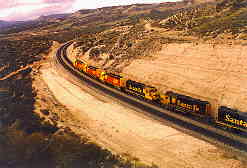 Region Occupies Pivotal Position on Commercial Lanes

PAUL McAFEE -- Managing Editor

Introduction (why businesses relocate) | Trucking | Important Railway Hub | Air Cargo Center | Links
Ask the principals of any newly arriving company why they chose to locate in the Inland Empire, and the answer is almost always the same: lower labor rates, lower land and lease prices, and easy freeway and railway accessibility.
The importance of that last attribute can't be underestimated. The Inland Empire is the transportation hub of the southwest United States. Like spokes on a bicycle wheel, the region's freeways and rail lines stretch out in all directions, linking Tucson with Thousand Oaks, El Paso with Eureka, Phoenix with Portland.
Many of the nation's most important interstate freeways bisect the area. Like Interstate 10, which stretches from Santa Monica to Jacksonville, Fla. And Interstate 15, which connects San Diego with Alberta, Canada.
No wonder the Inland Empire has become the crossroads of the United States. Like the trade routes of old, all roads seem to lead to Barstow, Ontario or San Bernardino.
With the Inland Empire occupying such a pivotal position on the nation's commercial lanes, it's no wonder why more than 6,000 manufacters and retailers have set up manufacturing or distribution operations in San Bernardino and Riverside counties, according to local commercial real estate brokers. It's only a short haul from Ontario or Riverside or even Victorville to any Southern California city. What's more, all points east and north in the United States are as accessible as the nearest freeway onramp.
The geographic relation of the Inland Empire to the rest of the West Coast and the southwestern United States hasn't been lost on the dozens of trucking companies that have set up depots here. That includes the nation's four largest less-than-truckload shippers: Consolidated Freight, Yellow Freight Systems, Roadway Express and ABF Freight Systems. (Less-than-truckload carriers fill up their trailers with goods from several companies before driving cross-country.)
A thriving auxiliary industry has also sprung up to serve the shipping enterprises that have located here. That's evident to anyone driving down Valley Boulevard in Fontana, where it's easy to lose count of the sales, lease and repair yards catering to the trucking industry.
Introduction (why businesses relocate) | Trucking | Important Railway Hub | Air Cargo Center | Links
Just as they have throughout the region's rich history, the railroads continue to play a major role in the Inland Empire. That's because the area also sits in a strategic spot on the nation's railway corridors.
Tracks of the nation's largest rail lines -- Burlington Northern Santa Fe Corp., Union Pacific Corp. and Southern Pacific Rail Corp. -- run through the heart of the area. Each day, they carry several freight trains laden with goods from factories in the East bound for the West Coast, or vice versa.
Some even carry cars and other products produced in factories in Asia. The commodities arrive at the ports of Los Angeles and Long Beach in container ships. The containers are then transferred onto flatbed trucks or rail cars for the journey north, south or east.
The Inland Empire is so important to the nation's rail shippers, they're each planning or completing major capital improvements in the area. Burlington Northern Santa Fe has spent more than $65 million on three new facilities in San Bernardino -- automobile and plastic pellet distribution centers and a much-expanded intermodal yard, where containers are transferred between trucks and trains.
If their highly contested merger goes through, Union Pacific and Southern Pacific plan to spend just as much building a new intermodal yard in the Colton area and doubling the track between Pomona and Yuma, Ariz., and between El Paso and Colton.
Introduction (why businesses relocate) | Trucking | Important Railway Hub | Air Cargo Center | Links
Ontario International Airport has been a magnet for local air cargo for decades. In recent years, the annual volume of freight handled at the Inland Empire's largest commercial airport has kept pace with the explosive growth of warehousing and distribution in the surrounding area.
Last year, the airport handled 386,000 tons of cargo -- more than double the 1986 total, according to figures compiled by the Los Angeles Department of Airports, which owns Ontario International.
United Parcel Service's new West Coast air hub has contributed to that rapid growth in air cargo activity. The $53 million facility opened just south of the airport in 1992. Today, 16 UPS planes carry parcels and other freight into and out of Ontario International on a typical day.
UPS alone accounts for more than 70 percent of all air cargo shipped through the airport. Other big cargo carriers -- including Federal Express, Emery Worldwide, Airborne Express and Burlington -- make up most of the remainder. Passenger airlines also contribute to the total.
Ontario International officials want to attract even more air freight business. In fact, they've made it a top priority this year.
They're not alone. Two former Air Force bases -- Norton in San Bernardino and George in the High Desert -- have been converted into commercial airports that want to handle air cargo. Now that March Air Force Base in Riverside County has been downgraded to a reserve base, it's also a candidate for cargo flights.
Last week, the first cargo carrier began flying out of San Bernardino International Airport (formerly Norton air base). Start-up carrier UTA Air is making four weekly trips between San Bernardino and Miami, with a stop in Dallas.
Original article by Paul McAfee (paulmac@pe.net; Web site) appeared June 10, 1996 in the TRANSPORTATION SERVICES DIRECTORY of THE BUSINESS PRESS. Reprinted with permission.
Introduction (why businesses relocate) | Trucking | Important Railway Hub | Air Cargo Center | Links
---
City Statistics & Demographics | Fast Track for Business Relocations
New Development | Awards for Design Excellence | City Video
Rancho Cucamonga, CA Map | Rancho Cucamonga Chamber of Commerce
The Department of Commerce Export Assistance Center
---
Suggestions? E-Mail to webmaster@citivu.com
Last update: 21 June, 2004

Copyright © 1996-2004 by Paul McAfee/The Business Press. All rights reserved. Hot-links are welcome.