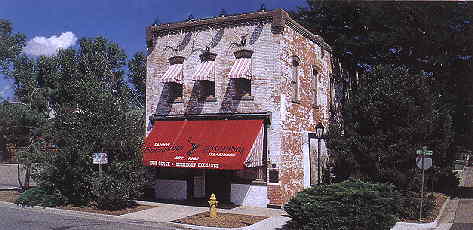 The Buckhorn Exchange
The next time someone asks you where they can get a really good steak dinner, tell them about the Buckhorn Exchange. Founded in 1893 by Henry H. "Shorty Scot" Zietz, one of Buffalo Bill Cody's riders, the historic Buckhorn Exchange restaurant in Denver Colorado serves excellent dry, aged beef steaks, marvelous prime rib of buffalo, and tantalizing baby back ribs with a tangy barbecue sauce. The restaurant is one of the "must-visit" eateries when youíre in the Mile High City.
The Buckhorn's moderately priced menu features beef plus various game entrťes including buffalo, elk, quail, and pheasant. Appetizers include such exotic items as fried alligator tail and grilled duck breast. If that's not adventurous enough, try the rattlesnake marinated in red chili and lime; it's served with a raspberry, red Zinfandel sauce, and fried fresh mushrooms lightly seasoned with bread crumbs. For truly adventurous people (or perhaps for medicinal purposes) you can try the classic "Rocky Mountain Oysters." Just don't wait until after the waiter clears away the empty plate to tell your loved one that these tasty morsels are actually beef testicles.
If you're not sure you will like eating wild game, try the beef-game combination plates for under $30, or one of their traditional steak dinner specialties. As a weathered sign of the north side of the building says, the Buckhorn does specialize in steak dinners. And they do know how to cook steak. You'll get large portions -- enough for two to five guests -- of New York strip loins, with tail removed but a very thin layer of fat left for cover. The Buckhorn waiter will serve it tableside with a sizzling crock of mushrooms and onions. You also get soup or salad and a side dish of your choice. These family steak dinners take a little extra cooking time, but they're worth it.
People donít just come in for the great food. The restaurantís colorful history and decor are truly part of the experience. The Buckhorn Exchange is as much a museum as it is a fine restaurant. There are over 500 examples of the taxidermist's art on display, including 235 large animal heads or whole animals, many of them taken by the Buckhornís original owner, Shorty. And you'll find some 125 guns on display, including several truly rare firearms.
"Shorty Scout" got his name from Chief Sitting Bull, and was a friend and hunting companion of President Teddy Roosevelt, as well as one of Cody's riders. He was one of the early West's most colorful figures, and the Buckhorn reflects his one-of-a-kind character.
Shorty first met Buffalo Bill when he was only 10 years old -- but he was already working as a cowboy in Firstview, Colorado. Three years later, at the tender age of 13, he became a full-fledged member of Codyís famed band of scouts. This job started a close friendship with Cody that ended only with Codyís death in January, 1917.
In 1938, Chief Red Cloud, a nephew of Sitting Bull, along with a band of Sioux and Blackfoot Indians, visited Shorty at the Buckhorn. The braves set up their tepees in the parking lot and, in a solemn ceremony that evening, presented Shorty with Sitting Bullís Colt .45 revolver plus a sword that had been taken from General George Armstrong Custer at the Battle of the Little Big Horn. A photo of this event still hangs in the Buckhorn, though the Zeitz family kept the gun and sword when they sold the restaurant to the present owners in 1978.
These days, you'll no longer see the clientele packing six-guns. Nor will you likely see silver barons rubbing elbows with roustabouts, miners shaking gold dust and dirt out of their clothing, steely-eyed gamblers scanning the crowd for their next mark, cattlemen, and railroaders. But a lot does go on there, and you never know what you'll see when you walk in. Film and TV crews are known to set up shop at the Buckhorn; recent examples included a Japanese film crew and the CBS This Morning show, with Harry Smith and Paula Zahn.
Is the Buckhorn truly Denverís oldest dining establishment, as it proclaims? It's hard to say -- but it proudly displays Colorado Liquor License #1 over the magnificent, 138-year-old hand-carved oak bar in the upstairs Victorian parlor and saloon. The entire 102-year-old building has been beautifully restored to give guests the feeling of comfortably dining in genuine turn-of-the-century surroundings.
In fact, the turn of the century provided one of the Buckhorn's more colorful stories. On December 8, 1900, a masked gunman came into the bar to rob the patrons, brandishing a Colt .45 and wearing another pistol on his hip. Described as having "beady eyes and wearing a red bandanna" over his face, the robber pistol-whipped a screaming barmaid and dashed out the door. Another patron followed him out with rifle in hand and dispatched the robber with a single shot as he galloped away on a stolen horse. Justice was swift in those days.
The Buckhorn Exchange is located at 1000 Osage Street in Denver. Itís open for dinner every night starting at 5:30 p.m. The restaurant also is open for lunch Monday through Friday from 11:00 a.m. to 2:00 p.m. Besides a varied dinner menu, the Buckhorn also has moderately priced lunch and childrenís menus. A roomy summer porch is available for outdoor dining in summer and enclosed and heated during winter months. You'll need reservations most nights; call 303-534-9505.
(Nick Anis, Travel Watch, 909-860-6914 voice, 909-396-0014 fax)
---
Travel Watch E-Mail Contact: nickanis@aol.com or travelwatch@citivu.com
Site hosted by CitiVU. Visit CitiVU: Rancho Cucamonga
Suggestions? Interested in a Web page for your business? E-Mail to webmaster@citivu.com
Last update: 9 April, 1997

Copyright © 1996-7 by Travel Watch. Hot-links are welcome. All rights reserved.