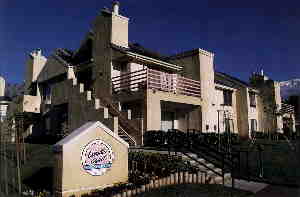 Lomita Court Apartments
Exciting architectural forms and detailing can be found throughout the Lomita Court Apartments.




Hunters Chase Condominiums
The site plan of Hunters Chase features generous open spaces and carefully manages the transition of density from the adjoining single family neighborhood.




Victoria Ranch Estates
Architectural details, like porches and board and batten siding, are the hallmark of these homes in Victoria Ranch Estates... reflecting the historic character of their surroundings.




Villa Del Rey
The mediterranean style design of Villa Del Rey is reminiscent of Rancho Cucamonga's heritage.




Calais Homes
Calais' single family homes demonstrate the appeal of a well designed zero-lot line development.




Contents
Welcome | Office Awards | Residential Awards | Commercial Awards | Industrial Awards | The Vision
Awards Historical Listing






CitiVU: Rancho Cucamonga
Copyright © 1995 by The City of Rancho Cucamonga. Permission granted to create World Wide Web pointers to these pages. All other rights reserved. Acknowledgement